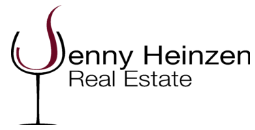 Jenny Heinzen Real Estate provides clients with an aggressive modern Marketing Plan that creates results through traditional and online methods. Marketing Plans are customized for each listing and may include; specific target markets, a press release, drone photography, an international focus, customized website and involvement of a local marketing company. Accurate pricing plus high-quality marketing gives your property maximum exposure to qualified buyers.
General Marketing:
Professional Photography and Virtual Tour, possible arial photography and Matterport 3D
Mobile-friendly Marketing Package
Color brochure or flyer designed by a local marketing firm
Engaging property description
Approach current buyers/clients
For sale sign (when applicable)
Broker Tour and Open House (often in the form of a reception)
Networking with buyers and REALTORS®/Brokers
Extensive online and social media promotion
Buyer activity report and follow-up
Local, national and international exposure
Discretion & client confidentiality
Customized elements
Multiple Listing (for non-confidential listings):
Real estate brokers and agents can view and send a listing to buyers through:
California Multiple Listing Service Platform (CRMLS) serves as a portal for adding and searching listings. CRMLS is the largest MLS provider in the country with approximately and 80,000 members in California.
Central Coast Regional Multiple Listing Service (CCRMLS), a database reaching approximately 2,500 REALTORS®. Its members are able to market properties across San Luis Obispo County, as well as parts of Santa Barbara, Kern and Monterey counties.
Public Domain Websites:
Listings are marketed on consumer-focused real estate sites. Some examples:
Zillow/Trulia
Redfin
Realtor.com
Social Media:
Facebook
Linked-in
Nextdoor
Pinterest
Many others

Real Estate Broker and Agent Websites:
Due to a sharing exchange (IDX) concept commonly practiced now in real estate, any agent can feature a listing on their own website for the purpose of attracting a buyer. With permission, your property is presented on corporate and individual agent websites such as sothebys.com, berkshirehathaway.com, cbhomes.com, remax.com and hundreds of others.

Syndication Media:
A somewhat newer cottage industry has developed around public access to information on real estate listings as a consumer draw. It's an outsourcing of content that adds value to online media products including the Wall Street Journal, USA Today and other mainstream media that enhance their following and subscriptions by providing direct links to real estate listings. Here is a list (logos) of some of them: